Start your training at Club Fitness Wanganui's No.1 Health and Fitness Centre. Whatever your fitness goal, Club Fitness can help you achieve it. Club Fitness offers modern weight training & cardio equipment, group fitness & spin classes, friendly staff, modern facilities, personal training, nutrition coaching all packed into a large multi level building. We have safe off street parking available for our members. Contact Club Fitness now if you want to get results.
Club Staff
Exercise Consultant / Personal Trainers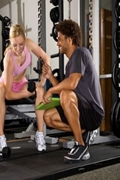 All the Club Fitness Trainers are here to help you achieve your goals. If you have any questions about your program or just about general fitness, please don't hesitate to ask one of our helpful and friendly staff members.
269 Wicksteed Street, Wanganui
06 34 84009
Monday

Tuesday

Wednesday

Thursday

Friday

Saturday

Sunday

6:30am - 7:00pm

6:30am - 7:00pm

6:30am - 7:00pm

6:30am - 6:30pm

6:30am - 6:00pm

9:30am - 12:00pm

9:30am - 12:00pm